Calls for Pope Benedict's sainthood make canonizing popes seem like the norm – but it's a long and politically fraught process
Jan 26, 2023 12:06 pm UTC| Insights & Views
Like many others around the world, I watched the funeral of Pope Emeritus Benedict XVI live on the internet. Before the service began, an unexpected announcement came over the loudspeakers requesting that members of the...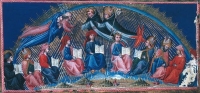 Jul 20, 2018 07:59 am UTC| Insights & Views Life
When a family member or a friend passes away, we often find ourselves reflecting on the question where are they now? As mortal beings, it is a question of ultimate significance to each of us. Different cultural groups,...