Rupert Murdoch and the rise and fall of the press barons: how much power do newspapers still have?
Sep 23, 2023 00:49 am UTC| Insights & Views
Global media tycoon Rupert Murdoch has announced his retirement as chairman of Fox and News Corp, making way for his son Lachlan. He has been demonised as a puppet master who would pull the strings of politicians behind...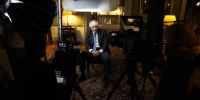 The BBC has a long history of failed attempts to rid it of political influence
Feb 06, 2023 09:08 am UTC| Politics
Most people probably dont know who the BBCs chairman is, or even that the BBC has a chairman. Yet this normally obscure figure has recently hit the headlines. Richard Sharp, BBC chairman since February 2021, is a former...