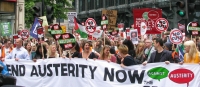 Is austerity really to blame for stalling life expectancy in England?
Jul 20, 2017 16:07 pm UTC| Insights & Views Life
Over the 20th century, life expectancy in the UK increased from 46 to 76 years. But since 2010, that rate of increase is close to having ground to a halt. At any point in living memory this finding would cause serious...
Queen Elizabeth II at 90: does old age affect a monarch's ability to reign?
Apr 20, 2016 05:50 am UTC| Insights & Views Politics
Modern British monarchs may have it easier than their forebears but strength, intelligence and a hearty constitution are just as necessary today as they were in the Middle Ages. This may seem surprising. After all, as a...