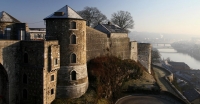 Who are the Walloons – and why are they blocking Europe's free trade deal with Canada?
Oct 27, 2016 05:16 am UTC| Insights & Views
Europe, it seems, has been looking in the wrong place to understand its malaise. At different points in the past couple of years, the Poles, the Hungarians and, of course, the British have been singled out as the principal...
The bitter fruits of alienation: Belgium's struggle is the problem of our age
Mar 23, 2016 17:31 pm UTC| Insights & Views
What we feared has happened, remarked Charles Michel, the prime minister of Belgium, in the immediate aftermath of the horrible and violent attacks on Brussels airport and the Maelbeek metro station on March 22. Yes,...