Countries must compete for migrant workers to boost their economies
May 13, 2018 08:56 am UTC| Insights & Views Economy
Politicians and the media expend inordinate amounts of energy debating migration, often using nativist, populist and xenophobic rhetoric. This is despite the fact that, as of 2017, only three out of every 100 people a...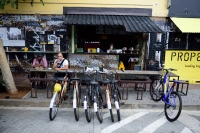 In their rush to become "global", cities risk creating spatial apartheid
May 10, 2017 00:31 am UTC| Insights & Views
The first thing I saw when stepping out of the taxi was a sign advertising craft beer, popular with hipsters everywhere. Sidewalk tables were occupied by attractive young people; a pleasant tableau of the multiracial...