One of the most anticipated vehicles from Tesla is undoubtedly the next generation of the Roadster sports car. However, CEO Elon Musk might have hinted that it would arrive much later than car enthusiasts expected.
Tesla Roadster release date
Those who do not know, the Tesla Roadster being mentioned here is the second-generation of the same name vehicle that the company launched in 2008. The new model was introduced at an event in November 2017 and has since been expected by many to arrive sometime this year.
It is safe to say, however, that Tesla has added a few more promises in the years that followed that might now affect the company's timeline for the Roadster. In an interview with Joe Rogan, Musk likened the sports car to a dessert. "We gotta get the meat and potatoes and greens and stuff," he added. The appetizers and entree he was referring to include increasing the Model Y production, opening Giga Berlin, Shanghai factory expansion, and the productions of Semi and Cybertruck.
Electrek pointed out that some of these targets have deadlines as far away as late 2021. In the same interview, Musk also implied that they are likely to release the Cybertruck first before the Tesla Roadster. This then led to new speculations that the sports car might not hit the road yet until 2022 – that is the earliest possible release date window.
Tesla Roadster specs, price
Another reason Musk described the Roadster as a dessert is because he assures people looking forward to it will not be disappointed. Tesla has some big promises about the sports car, including making it the "quickest car in the world." It is advertised to accelerate from 0-60mph in 1.9 seconds and to arrive with more than 250mph top speed. It is anticipated to pack a 620mi range with 10,000Nm wheel torque.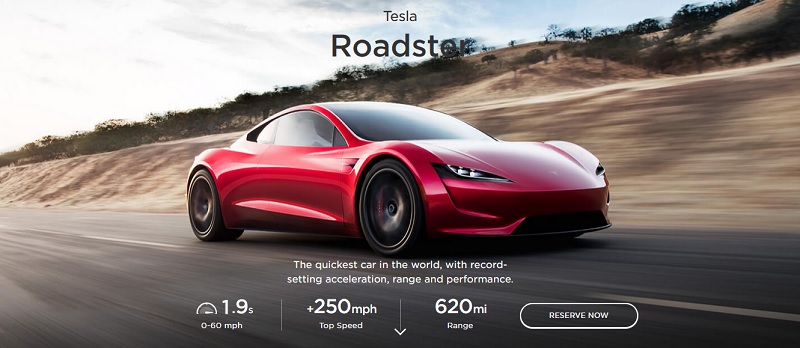 Screenshot from Tesla.com
Its specs and its price makes the Tesla Roadster not for everyone, though. The standard model's purchase price is $200,000. To make a reservation, a customer has to pay $5,000 through a credit card upon filling up the form on the website. But the reservation will not be finalized until the buyer wires $45,000 in the next ten days.
A Tesla Roadster Foundation Series is also planned for release and only has 1,000 reservation slots. The same credit card payment amount is required, but to make it official, the buyer has to wire $245,000 in 10 days for the $250,000 sports car.
Featured photo by Steve Jurvetson licensed under Creative Commons via Flickr