Google is expected to announce the Pixel 5 series in a matter of months, so it is not surprising to see leaked images online allegedly showing the design of the upcoming device. The latest render to emerge in the wild, however, sparks quite a debate, especially with the rumored major redesign on the rear cameras.
Google Pixel 5 design: How the next device might look like
In the coming months, the new lineup of premium smartphones are about to be announced, and it already started with the unveiling of the Samsung Galaxy S20 last month. The said device hinted at 2020 being the year of large rear camera modules. But if the latest Pixel 5 is to be believed, Google might have something bigger (literally) to offer.
Known leaker Jon Prosser released the alleged render of Pixel 5's front and back showing a major camera module redesign on the rear. It appears to occupy quite a significant space to house a three-camera system – likely adding an ultra-wide lens this year – along with the flash.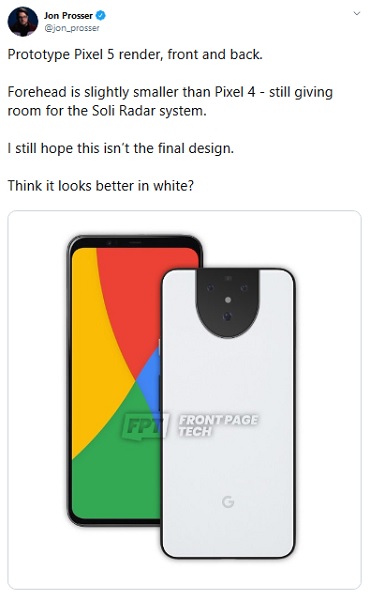 Screenshot from Twitter.com/@jon_prosser
The same image suggests that Google is not joining the display notch this year and will maintain the "forehead" bezel in front to make room for its Soli Radar system. It is used to recognize the user's gestures. Prosser noted, however, that the Pixel 5 forehead is designed "slightly smaller" than its predecessor's.
Google Pixel 5: Fans react to rear camera module redesign with memes and little approval
Many tech fans on Twitter have since scrutinized the design, especially the camera module on the back of Pixel 5. It even led to some memes suggesting that the positioning of the three lenses making it look like a face, Pikachu, and the face-with-open-mouth emoji. Meanwhile, other tech fans argued they are not bothered by the leaked image since they will not buy a smartphone just to stare on its back.
Prosser is known for correctly reporting on other unannounced smartphones before like the Galaxy S20. But there is still a chance for Google to change its course on the Pixel 5's supposed design, even the Prosser hopes that would be the case. It is then only fitting to still consume this leak with a grain of salt.
Google has yet to officially recognize what's true and not of the things that have been reported about Pixel 5. But avid tech fans are expecting the device to be announced in another Made by Google launch event sometime in October.