CD Projekt Red has yet to release the much-awaited patch 1.2 for "Cyberpunk 2077," so it is not surprising that the developer has yet to discuss its plans for downloadable contents. However, a new leak suggests that there could be up to 10 free DLCs and more paid expansions in the pipeline.
'Cyberpunk 2077' could get more than 10 DLCs, mostly for free
In an original post made by Reddit user PricklyAssassin, Epic Games Store reportedly increased its server capacity dedicated for "Cyberpunk 2077" from 100GB to 500GB. The change appeared to have been made to accommodate for future content.
The Reddit user also explained some technical details on how they gathered the information and added that they first came across the alleged list of "Cyberpunk 2077" DLCs in February. The source noted that there were 18 free DLCs listed when they first discovered it, but that has been reduced to 10 at the time they posted on Reddit over the weekend.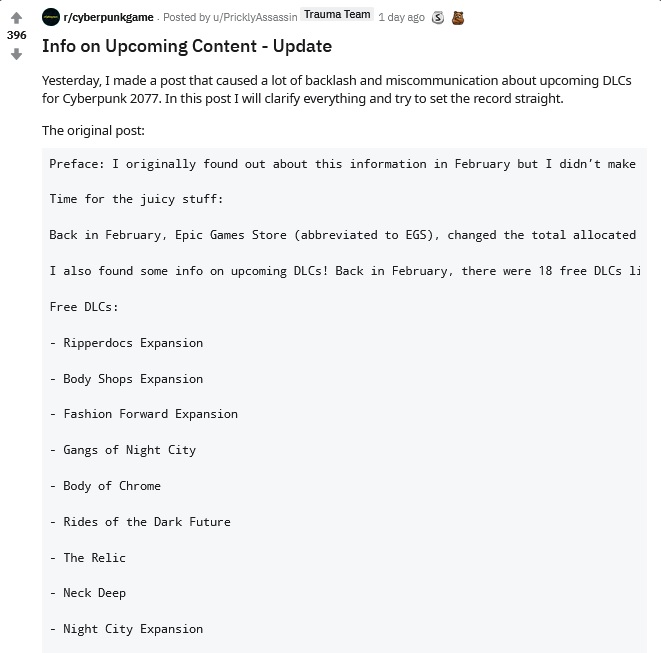 From Reddit user PricklyAssassin
Screenshots of the supposed placeholders for the "Cyberpunk 2077" DLCs were also shared by the Reddit user possibly revealing the names of the free content packs. Based on the images shared, the DLCs in the pipeline include "Ripperdocs Expansion," "Body Shops Expansion," "Fashion Forward Expansion," "Gangs of Night City," "Body of Chrome," "Rides of the Dark Future," "The Relic," "Neck Deep," "Night City Expansion," and an unnamed DLC.
The DLCs are listed with $0.00 price tags, which explains the speculations they would be released for free. The Reddit user added that there are three paid DLCs found through the Epic Games Store server.
Meanwhile, two of the free DLCs reportedly had the same names as two promo videos previously released on the official "Cyberpunk 2077" channel before the game launched last December. It is then speculated that these DLCs may have been planned to go live with the base game.
'Cyberpunk 2077' patch 1.2: Is it getting delayed again?
CD Projekt Red has confirmed it has DLCs planned for "Cyberpunk 2077." The specifics, including their release window, are still unknown as the developer still needs to address plenty of bugs and improve the gameplay before launching new content.
Fans have been waiting for the release of "Cyberpunk 2077" patch 1.2, which the studio said would be available in the second half of March. CD Projekt Red provided a teaser of the changes and new features to be introduced in the next update. But no release date has been announced yet as of this writing causing some fans to worry it might be delayed again.