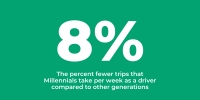 Millennials drive for 8% fewer trips than older generations
Jul 14, 2020 09:54 am UTC| Life
Millennials typically defined as those born between 1981 and 1996 have gotten a lot of press, both positive and negative. Some argue that they are more public-spirited and less materialistic than baby boomers. Others...
When corporations take credit for green deeds their lobbying may tell another story
Jul 17, 2018 14:12 pm UTC| Insights & Views
Today most large companies like Exxon Mobil, Ford and GM issue slick reports extolling their efforts to conserve resources, use renewable energy or fund clean water supplies in developing countries. This emphasis on...