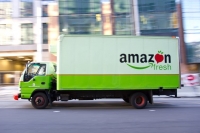 Will Amazon do to the grocery industry what it did to ecommerce?
May 30, 2018 23:25 pm UTC| Insights & Views Technology
Amazon has been busy lately. After entering the grocery delivery market with Amazon Fresh and buying Whole Foods, it is now in the process of launching its own supermarket, Amazon Go. These moves have many wondering if...