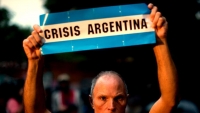 Argentina bets 60 percent interest rates – and $50B international bailout – will revive its economy
Oct 17, 2018 22:34 pm UTC| Insights & Views Economy Central Banks
An economy in recession. Pesos fleeing the country. The worst drought in decades. The worlds highest interest rates. The biggest bailout in the history of the International Monetary Fund. Sound scary? For Argentina,...
Poor and middle-income families need a better way than 529s to save for college
May 27, 2017 02:57 am UTC| Insights & Views Economy
A college education is increasingly necessary for success in todays economy. Its also increasingly expensive. Americans with a college degree earn, on average, US$1 million more over the course of their lives than those...