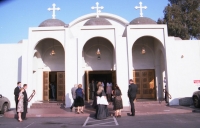 Who are the Coptic Christians?
Apr 18, 2017 05:54 am UTC| Insights & Views Life
On Palm Sunday, April 9, the Islamic State targeted two Coptic churches in coordinated bombings in the Egyptian cities of Tanta and Alexandria. The explosions killed dozens of Egyptians and injured many more in the worst...