Selfie culture: what your choice of camera angle says about you
Apr 04, 2021 10:36 am UTC| Life
Over the past decade, selfies have become a mainstay of popular culture. If the #selfie hashtag first appeared in 2004, it was the release of the iPhone 4 in 2010 that saw the pictures go viral. Three years later, the...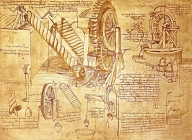 Four ways in which Leonardo da Vinci was ahead of his time
May 02, 2019 16:44 pm UTC| Insights & Views Life
Leonardo da Vinci is generally recognised as one of the great figures of the Renaissance and one of the greatest ever polymaths. As the world marks the 500th anniversary of his death, its important to look at some of the...