The new iPhone SE seems like a smartphone where the old and new collide but, to be frank, there is hardly something new in this device. However, its mix of an old design but with newer components could be the right recipe for a successful entry-level iPhone.
iPhone SE 2020 specs: Who would consider buying it?
When fans look at the new iPhone SE, they will find something very familiar. The lack of the display notch meant the return of the physical home button. It has a glass and aluminum bodywork that was already seen on the iPhone 8. But it is not surprising since they reportedly use the same form factor.
However, what's under the chassis is the main selling point of the iPhone SE. While it sports an old design, it is powered by the latest Bionic chip from Apple – the A13 with 7nm+ architecture. It has six cores and clocked at 2.65GHz. It is a decent upgrade to iPhone 8's 10nm A11 processor.
The iPhone SE also has four cores of Apple GPU while the iPhone 8 only has three. The new device's standard RAM capacity is 3GB, which is one 1GB more than the other.
The A13 also permits the device to function with 18W fast charging tech, whereas, its look-alike only works with 15W. Have a later generation of Bionic chip also suggests the iPhone SE would be in the list of compatible devices for new iOS versions in several years to come.
iPhone SE price, release date
The cost of the recent iPhone models can be intimidating to anyone who wants to experience the iOS or just have a device that is within the loop of Apple's ecosystem. But, with iPhone SE, people now have an option to buy an Apple device with the latest chip starting at $399 only.
It is not difficult to see how the iPhone SE could be a hit. It appeals to entry-level iPhone users and even those who are in dire need of an affordable upgrade by iPhone 8 or older models, which are no longer available directly from Apple.com.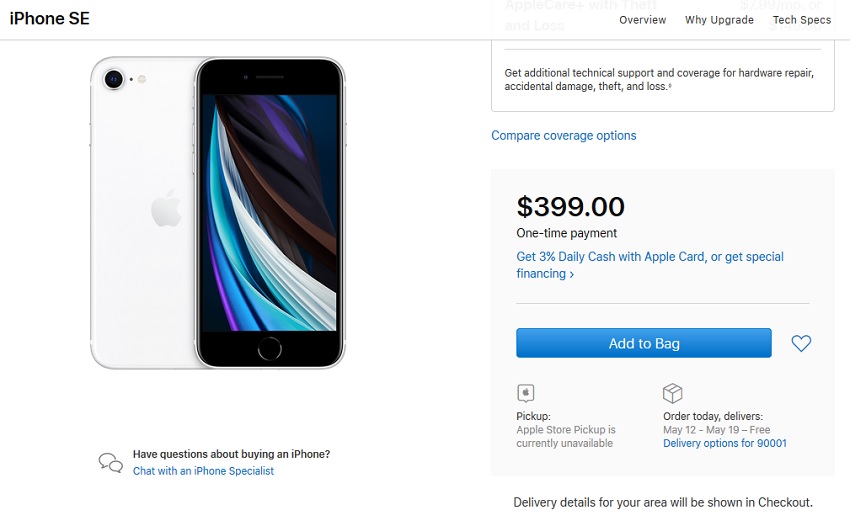 Screenshot from Apple.com
As for the release date, the iPhone SE was initially promised to become available on Friday, April 24. However, if someone purchases it online right now, the website indicates that a store pick-up is not an option and the earliest delivery ETA is on May 12-19.