There was a circulating rumor that the all-new iPhone SE would be sold with a free pair of AirPods. Now that Apple's entry-level smartphone has been launched, tech fans will finally get to see if that report checks out.
AirPods: Does it come for free with iPhone SE pre-orders?
Pre-orders for the iPhone SE just started on Friday, starting at $399 for a device with 64GB storage. This means every detail about the device's specs and the items it comes off-the-box with have also been revealed. And, unfortunately, the official Apple store does not confirm the earlier rumor about having a pair of free AirPods.
On the "In the box" section of iPhone SE's tech specs page, every order will come with the smartphone, a Lightning USB cable, a USB power adapter, and its papers. It does not mention anything, including any of the AirPods models in the market. However, every box will be shipped with EarPods with a Lightning Connector since the iPhone SE does not sport a 3.5mm earphone jack.
It can be recalled that the rumor of having free AirPods with the new iPhone SE started to go around earlier this year. A pre-sale poster for the device posted at one of Korea Telecom's outlet appeared to be advertising the "iPhone 9" – it was one of the suspected names to be given to Apple's then-upcoming device that is now officially (and rather simply) called the iPhone SE.
However, even back then, it already seemed unlikely for Apple to offer such an offer that bundles AirPods with a newly released smartphone. Pre-ordering the iPhone SE right now gives customers a chance to have it delivered as soon as April 24.
AirPods deals: Apple's truly wireless earbuds go on sale
As mentioned, the iPhone SE does not have a dedicated port for wired earphones. This then makes the device paired with AirPods. Luckily, the second-generation and Pro models are both on sale right now with a rare discount.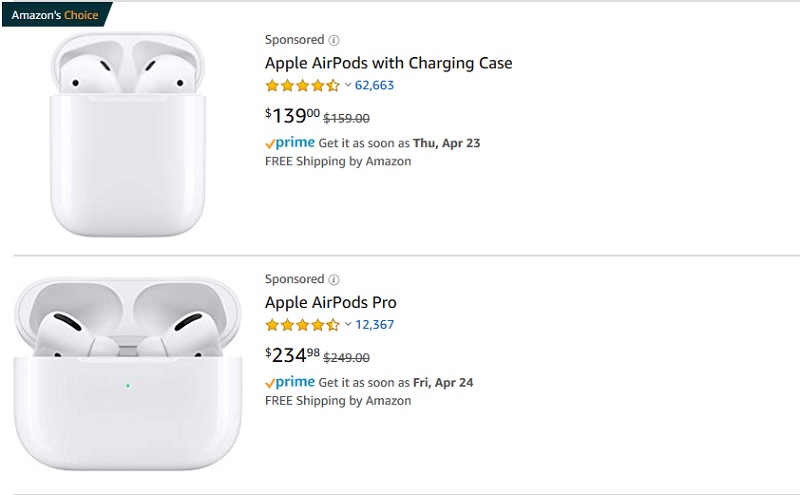 Screenshot from Amazon.com
The AirPods with a charging case currently sells for $139 on Amazon, instead of its regular price at $159. Meanwhile, the AirPods Pro also gets a discount bringing down the cost to $235 after a $14 price cut. Amazon still offers two-day shipping, but it is best to expect some delays due to limited operations caused by COVID-19.