More reports emerged on Thursday that Apple could finally unveil the rumored iPhone SE 2020 before this week ends. Meanwhile, the company may have also subtly confirmed how its next entry-level smartphone would look like in leak on its official online store.
iPhone SE 2020 design, specs
First, it is important to address the name of the device because for months, leakers and tech enthusiasts have either been calling it the iPhone SE 2 or the iPhone 9. With the smartphone's rumored release date possibly happening in less than 24 hours, the device is believed to simply be called iPhone SE with 2020 as its hardware identifier. So in this report, it would be referred to as the iPhone SE 2020.
iPhone SE 2020's design has always been consistent in the reports as the device is expected to have the same form factor as the iPhone 8. It now appears that Apple fans can confirm it from no less than Apple.com. As spotted by known leaker Jon Prosser, the online store lists a screen guard "for iPhone SE / 8 / 7" for $39.95.
The product name cannot be referring to the old iPhone SE since it is significantly smaller than the iPhone 8 and 7; thus, they cannot share the same accessory. In the drop-down menu for the product, the only options currently available are iPhone 8 / iPhone 7 and another choice for their respective Plus versions.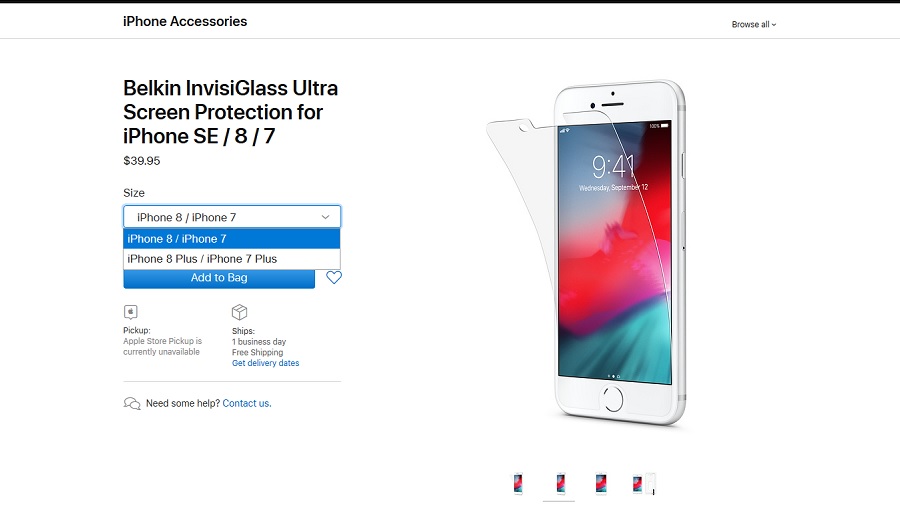 Screenshot from Apple.com
This is not surprising considering that the "iPhone SE" mentioned in the product name has yet to be officially announced. What this says about the iPhone SE 2020 is it is designed very similar to the iPhone 8 enough that the same screen guard can be used on them.
More hardware upgrades can be expected on the iPhone SE 2020. For one, it is expected to be equipped with the A13 chip – the same processor on the iPhone 11 series. So it is still shaping up to be an upgrade from the iPhone 8 despite possibly getting marketed as an entry-level iPhone.
iPhone SE 2020 release date
The latest reports on the iPhone SE 2020 release date are much more interesting. Prosser, who has gotten several leaked information correct in the previous months, claims to have sources that say the device would be unveiled on April 15.
However, 9to5Mac (also with a good track record) reports that the iPhone SE 2020 will go live on Apple.com as soon as Friday, April 3. The publication also confirmed that the device would be available in three color variants, including White, Black, and PRODUCT (Red). Three storage options are also anticipated: 64GB, 128GB, and 256GB.
Featured photo by Karlis Dambrans licensed under Creative Commons