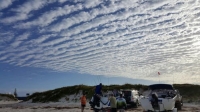 Curious Kids: where do clouds come from and why do they have different shapes?
Sep 13, 2018 13:14 pm UTC| Insights & Views Life
This is an article from Curious Kids, a series for children. The Conversation is asking kids to send in questions theyd like an expert to answer. All questions are welcome serious, weird or wacky! You might also like the...