Twitter just launched a new feature that makes NFT profile pictures easier to distinguish. As expected, it has been met with mixed reactions from users and major brands.
People will find everyday debates about the pros and cons of supporting NFTs and other metaverse technologies on Twitter. But the social media giant has been clear about favoring them and has already allowed cryptocurrency users to link their digital wallets to their accounts. The recent profile picture update is far from surprising, and so are the reactions Twitter has been receiving so far.
Twitter starts displaying an announcement (as seen in the photo below) explaining how the new feature works. Along with a simple explanation of what NFTs are, the company says NFT profile pictures will appear hexagonal.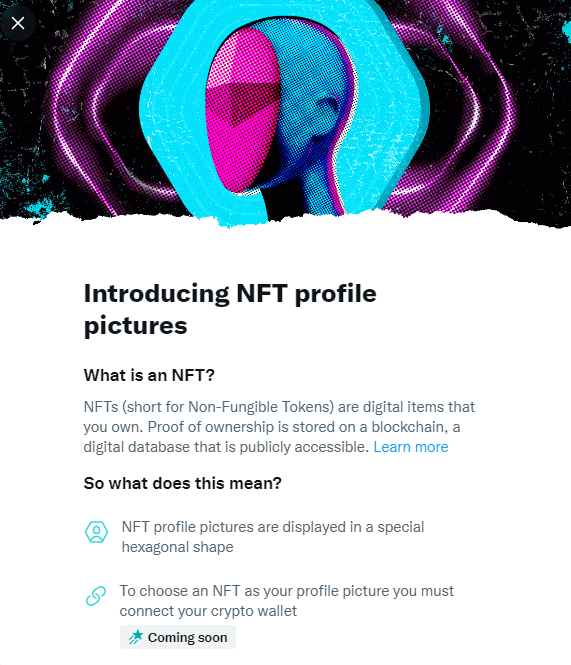 Users can experience the new function by linking their crypto wallets to their Twitter accounts. But NFT verification is currently only available to Twitter Blue subscribers.
NFT fans are naturally delighted by the announcement.
People who have created their own NFTs welcomed the announcement by sharing links to their collections. One user pointed out that this should help people to easily determine if a page offering NFT rewards through retweet contests actually owns digital assets since the feature requires a linked crypto wallet.
However, a quick search of "Twitter NFT" on the platform will also display plenty of negative feedback on the feature. People scrutinizing the NFT hype said having the hexagonal-shaped avatars would make it easier for them to see which pages to unfollow.
Others have also poked fun at the fact that the feature allows them to right-click hexagonal Twitter profile pictures and acquire NFTs as JPEG files without paying anything. The so-called "right-clickers" have argued that NFTs are merely expensive JPEG files that they can "own" by right-clicking on the images and hitting the save button.
Some brands have also weighed in on the Twitter NFT verification function. Shonen Jump replied to the announcement post with a grimacing face emoji. The manga subscription service previously had to calm down its subscribers that it is not launching NFT collections.
Gaming accessories manufacturer SteelSeries and Slim Jim had similar-sounding responses by mentioning the "right-click-save" and screenshot tricks. Bush's Beans posted a pixelated image of one of its canned food products while sarcastically asking users not to screenshot the photo.
Photo by Alexander Shatov on Unsplash