Social media networks can be some of the most toxic places to be on the internet. While these platforms have reporting systems in place, users often find that the preset criteria when reporting a perceived violation or offensive post to be lacking. But Twitter says it is working on making this experience better for its users.
The company announced it has started testing an overhaul in the Twitter reporting system that takes a "symptoms-first" approach. Instead of asking the person making the report to decide which rule was violated, the new process will include a few more questions that ask more about what is going with the post they want to report.
Twitter provided a sample image of the new reporting flow in a blog post, where users can easily find what could be changing in the future. In the new system, reporting a potentially offensive tweet starts by asking, "Who is this report for?" with options including Myself, Someone else, A specific group of people (could refer to a racial or religious group, among others), and Everyone on Twitter.
The next question would then ask the reporter how the tweet may be affecting a person, group, or everyone on Twitter. Some of the options visible in the sample image include hate speech, harassment or violent threats, spam, self-harm, or sensitive content.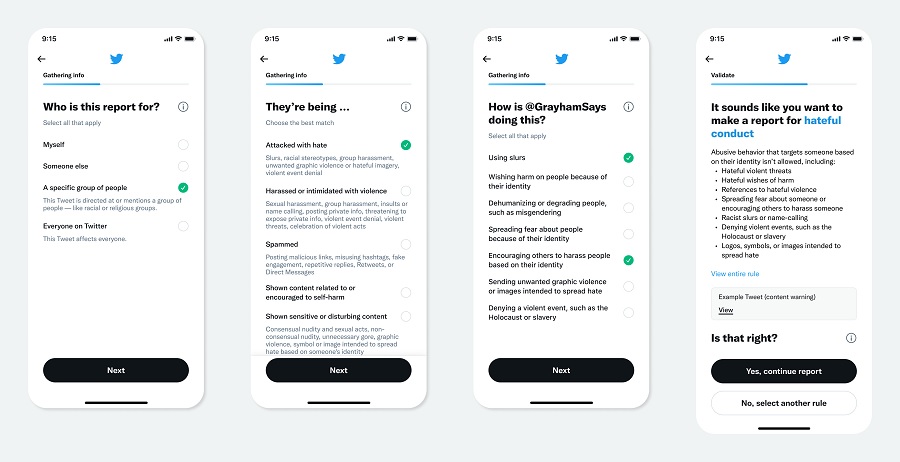 Photo from Twitter
Each option has further examples or explanations. For example, if the tweet is deemed to be spewing hate, the Attacked with hate option enumerates more specific actions, such as if the tweet has slurs, racial stereotypes, or "violent event denial" like how some people say the Holocaust and slavery never happened.
After that, the reporting system would offer more detailed examples, where the reporter could choose more than one, to further identify possible Twitter violations. In the end, the new process would provide a summary of what the reporter believes has transpired and a question if they want to proceed with filing the report.
Twitter says the new reporting system is currently being tested with a small group of users in the United States. But it is planned to roll out to a bigger audience in 2022. "It's a worthwhile investment because by asking people to describe what's happening to them, as opposed to just ticking a box, Twitter gets the added benefit of collecting rich feedback that allows it to identify concerns that perhaps had not been on its radar," Twitter said.
Photo by Nathan Dumlao on Unsplash