The wait for "The Last of Us 2" is finally down to just over a month as Sony confirmed a new release date for the action-adventure sequel. Fans can also buy physical copies of the game from the nearest local stores while pre-orders have been reopened.
'The Last of Us 2' release date, pre-orders
Sony had to temporarily stop accepting pre-orders when it decided to cancel the game's May 29 launch as COVID-19 made it logistically impossible. But the company appears to have remedied that, and "The Last of Us 2" is finally set to go live on Friday, June 19 exclusively on PlayStation 4.
Pre-orders for both digital and physical copies have also been reopened. Players can also buy "The Last of Us 2" discs on launch day from authorized retail stores. However, the global COVID-19 pandemic might not make this option available to some regions. Luckily, fans can know beforehand if the nearest gaming store will be selling physical copies of the action-adventure.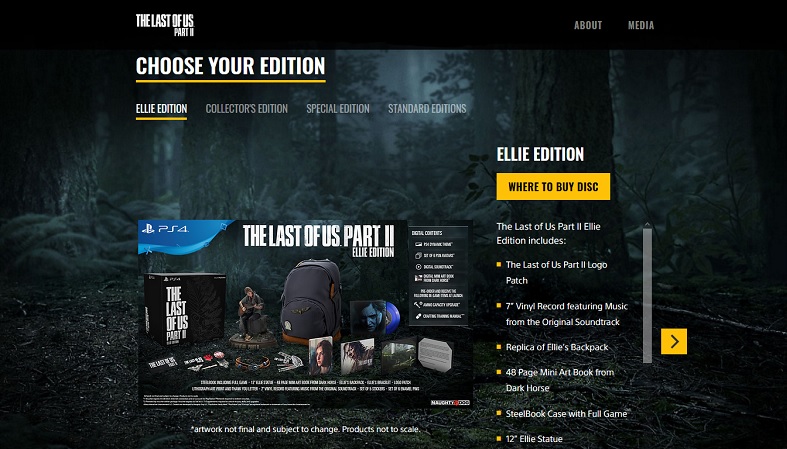 Screenshot from PlayStation.com
To do that, visit the game's official website. In the Choose Your Edition section, there is a yellow button that says, "Where to Buy Disc." Clicking it will redirect fans to a list of stores that will carry the game based on their location. Those using VPN might want to briefly disable it so the website could provide accurate results. The Standard Edition costs $60, while special bundles that include exclusive and limited-edition collectibles can go up to $230.
'The Last of Us 2': New story trailer confirms leaked spoilers?
Waiting for "The Last of Us 2" has been much like a roller coaster ride, especially over the past weeks. After going through several delays, major plot points of the story-driven video game were leaked by hackers.
The spoilers have been a polarizing issue among gaming fans. Some have remained supportive of Naugty Dog and of the game, saying it is not fair to judge the sequel based on snippets only. However, others were enraged by the revealed plot twists concerning some very important characters to the point of promising never to purchase "The Last of Us 2."
Those who decided to refrain from reading the leaks will have nothing to worry about watching the latest story trailer of "The Last of Us 2." Players who have seen the spoilers could easily connect the dots and would feel like the new teaser confirms some of the details they have previously read.