When OnePlus Nord arrived in the market, Poco posed a question to smartphone fans implying they better wait for their next offering before making a purchase. That device to content with OnePlus' first mid-range phone turned out to be the Poco X3. Now that Poco X3 is out in the market, it is interesting how it has quite a different-looking specs sheet and price tag compared to the OnePlus Nord.
Poco X3 vs. OnePlus Nord display, battery, camera
One of the defining specs of Poco X3 lies in its display setup. This year, the world has seen practically every manufacturer releases new devices with screens that support a high refresh rate. Poco Global managed to do that with its new product as it sports a 6.67-inch screen with a 120Hz refresh rate and can play media content in HDR10. OnePlus Nord's 6.44-inch Fluid AMOLED display has a 90Hz refresh rate, but both devices' screens have FHD+ (1,080 x 2,400) resolution.
These screen specs are typically designed for devices that are marketed toward heavy gamers and binge-watchers, so their battery capacities should also be considered. In this case, the Poco X3 has quite a lead with a 5,160mAh battery compared to OnePlus Nord's 4,115mAh component. The Poco X3's quad-camera setup consists of 64MP (wide), 13MP (ultrawide), and 2MP each for macro and depth shot its rival device has a 48MP main sensor, 8MP ultrawide, 5MP depth, and 2MP macro sensors. The Nord has a dual-camera (32MP + 8MP) for selfies while Poco X3 only has one (20MP).
Poco X3 vs. OnePlus Nord CPU, mobile network, memory
OnePlus Nord simply dominates the CPU department as it is powered by the Snapdragon 765G chipset while the Poco X3 is equipped with the newly released Snapdragon 732G. The latter should not be underestimated, though, as it only has few downsides than the other SoC such as the lack of 5G support.
On the other hand, the presence of 732G is what makes the Poco X3 the non-rebranded product that Poco fans have been waiting for. The internal storage options are similar on the two smartphones ranging between 64GB and 128GB but the OnePlus Nord has two RAM configurations of 6GB and 8GB while the Poco X3 only supports 6GB memory.
Poco X3 vs. OnePlus Nord price, availability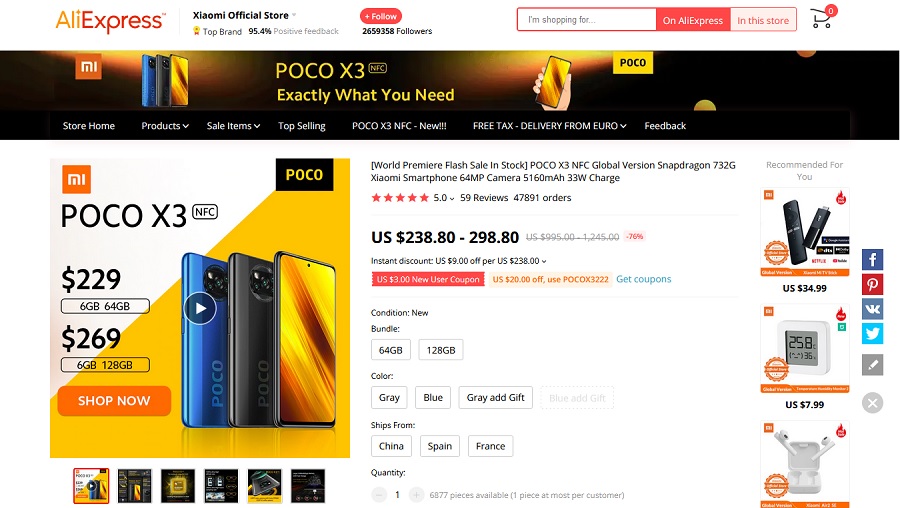 Screenshot from AliExpress
To many smartphone buyers, this specs sheets showdown boils down to how much will the product cost. Probably because of the chipset and other features, Poco X3 is currently priced below $240 for its basic configuration. It can be ordered through AliExpress with available deliveries to China, Spain, and France. The OnePlus Nord, with a price that starts at €399 (~$470), also had quite a limited launch as it has since been shipped to Europe and India so far.