A Poco Global official recently confirmed that the brand has a new smartphone in the pipeline that should be a worthy rival to the well-received OnePlus Nord. However, fans are wondering about one particular thing -- is it going to be an original creation or another renamed device from the Redmi brand?
Poco vs. OnePlus Nord: What to expect
The OnePlus Nord was launched in India and Europe earlier this month. Notably, these are the same markets where the latest Poco devices have been primarily released. It was then not surprising when Poco Global Product Marketing Manager and Global Spokesperson, Angus Kai Ho Ng, announced on Twitter that a new Poco smartphone is coming soon, and smartphone fans might want to consider that before buying OnePlus Nord.
He wrote, "OnePlus Nord or.... wait for the new POCO?" The Poco Global official Twitter replied jokingly that the announcement was made "too early." But that seems hardly the case since the tweet was made shortly after the initial OnePlus Nord sales started last week.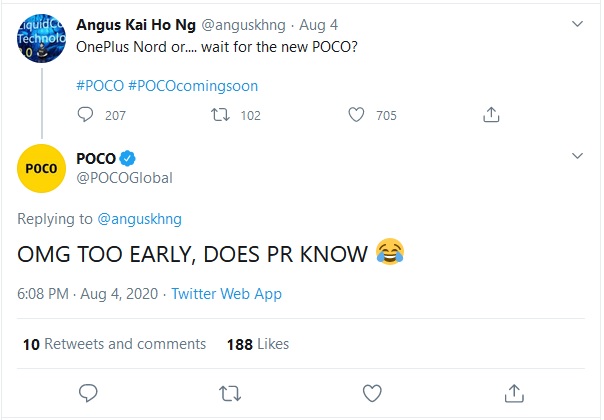 Screenshot from Twitter
That was all the information revealed about the next Poco smartphone. But it tells tech fans what specs and features they should expect given that it is currently billed as a challenger to the OnePlus Nord. To give Nord a good fight, Poco's upcoming smartphone should be equipped with some of the premium-level features like a 90Hz display, 5G network (through Snapdragon 765G), and a Sony IMX586 48MP wide camera.
Next Poco: Is it another rebranded Redmi?
While most Poco fans replying to the tweet expressed excitement, some are a little skeptical as they wonder whether or not the upcoming smartphone is another rebranded Redmi or Xiaomi Mi device. Given that the smartphones Poco Global and Poco India have released in previous months were all rebrands, it is a very likely scenario.
Some speculate the OnePlus Nord contender could be a Poco version of the Redmi 10X 5G series, which was released with the Snapdragon 765G counterpart MediaTek MT6875 Dimensity 820 5G. Others suggest it could be a rebrand of the Mi 10 Youth 5G powered by the same Snapdragon chip. Notably, both devices have 5G network and include 48MP cameras, but neither has a 90Hz display. Fans should get more clarity on this matter as Poco promised to release more news this month.