Banking fraud is costing the Nigerian economy dearly
Nov 22, 2016 13:19 pm UTC| Insights & Views Law Economy
Pervasive electronic banking fraud is affecting Nigerias banking system and costing the Nigerian economy dearly. It is also holding back the adoption of cashless technologies and has become an obstacle to financial...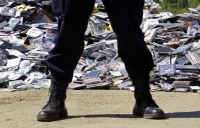 The who and how of pirates threatening the Nollywood film industry
Apr 20, 2016 05:41 am UTC| Insights & Views Entertainment Law
With an average production of 50 movies per week and about $590 million revenue annually, Nigerias film market is booming. Dubbed Nollywood, it has overcome the teething problems of the late 1980s and 1990s to become a...