Bad data collection means we don't know how much the middle class is being squeezed by the wealthy
Dec 20, 2017 18:11 pm UTC| Insights & Views Technology
Australia is falling behind other nations and international bodies in measuring inequality, particularly the concentration of wealth. This also means we are in the dark about the trends affecting Australias middle...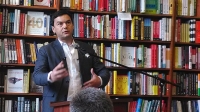 Piketty challenges us to consider if we need to rein in wealth inequality
Oct 26, 2016 09:49 am UTC| Insights & Views Economy
French economist Thomas Piketty, currently in Australia, is known for his focus in on the inequality of wealth. His book on the topic has sold two and a half million copies worldwide, which is quite amazing for a book full...