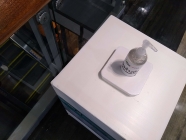 Vodka won't protect you from coronavirus, and 4 other things to know about hand sanitizer
Mar 16, 2020 06:40 am UTC| Health
Editors note: As concern about coronavirus grows, hand sanitizer is in high demand. Biologist Jeffrey Gardner explains why alcohol is a key ingredient in hand sanitizer, and why he doesnt recommend making your own supply...
Funding basic research plays the long game for future payoffs
Aug 08, 2018 13:38 pm UTC| Insights & Views Economy
The Senate recently proposed to increase the research budgets of the National Institutes of Health, National Science Foundation and NASA. While this is encouraging to the many scientists whose research is dependent on...