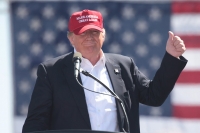 Why Trump's Make America Great Again hat makes a dangerous souvenir for foreign politicians
May 26, 2020 03:39 am UTC|
It looked just like any posed political picture. The politician, in this case the National Partys newly elected leader, Todd Muller, standing by a bookcase. So far so normal. It wasnt even a new photo. Except that...
What NZ and Australia can learn from British Columbia's implementation of Indigenous rights
Dec 22, 2019 13:59 pm UTC| Insights & Views Life
In October, the Canadian province of British Columbia passed legislation requiring parliament to align its laws with the UN Universal Declaration on the Rights of Indigenous Peoples. Back in 2007, Canada was one of four...