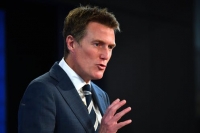 Australia's proposed defamation law overhaul will expand media freedom – but at what cost?
Dec 03, 2019 03:32 am UTC| Insights & Views Law
Last Friday, Australias attorneys-general agreed on proposed amendments to the provisions which underpin Australian defamation laws. This means Australian governments have a plan for how to change defamation...
Politicians suing for defamation is usually a bad idea: here's why
Mar 21, 2019 13:40 pm UTC| Insights & Views Politics
When The Project host Waleed Aly began his editorial in the wake of the Christchurch massacre, he apologised that these wont be my best words. He was wrong. The YouTube clip of his poignant commentary has been viewed...