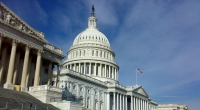 What's the economic impact of a government shutdown?
Dec 21, 2018 10:59 am UTC| Insights & Views Economy
President Donald Trump and Congress are once again on the verge of a partial federal government shutdown. If they fail to reach an agreement, it would be the third shutdown in two years. The immediate and most visible...
Will a federal government shutdown damage the US economy?
Jan 22, 2018 13:48 pm UTC| Insights & Views Economy
The federal government is on the brink of shutting down for the first time in a little more than four years after Republicans and Democrats appeared unable to agree on a last-minute deal to keep funds flowing for another...