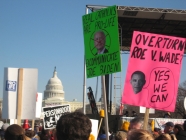 Could Roe v. Wade be overturned?
Mar 20, 2017 01:50 am UTC| Insights & Views Law
If you care about the future of abortion rights, now is a good time to worry. A sweeping Supreme Court victory for pro-choice advocates last summer was quickly overrun by worries brought on by the election of Donald...