How football clubs fail and succeed after reaching England's Premier League
May 16, 2017 13:56 pm UTC| Insights & Views Sports
Football always divides opinion. As the latest English season draws to a close and the Football League playoffs take centre stage, there will be some that grumble about the format. They will say how unfair it is that a...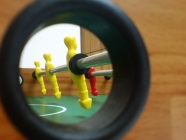 Prepare for a record-breaking Premier League transfer window
Jan 05, 2017 16:35 pm UTC| Sports
If a week is a long time in politics, then a month in football can seem like an eternity. The English Premier League January transfer window is now a well established tradition that can tease, delight and disappoint...