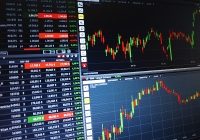 Stock market rollercoaster: Why high-frequency trading isn't to blame
Mar 16, 2020 06:04 am UTC| Investing
Financial forecasting involves predicting an organizations financial future. It typically considers a history of prices, trading volumes or other predictors such as financial statements, interest rates and commodity prices...
The answer to forecasting Bitcoin may lie in artificial intelligence
Jul 03, 2019 21:05 pm UTC| Insights & Views Digital Currency
As Bitcoin tries to regain some of the lustre it held in late 2017 when it nearly reached US$20,000 in value, investors are still questioning how to predict such a volatile currency. As a cryptocurrency, there is no...