More evidence has surfaced online suggesting that the iPad Air 4 pre-order will open on the same day as the iPhone 12 on Friday, Oct. 16. Reports have it that third-party retailers have also listed the tablet with a delivery date next week.
iPad Air 4 release date likely confirmed for next week
The fourth-generation of iPad Air was one of the highlights during the Apple September event alongside the new series of Apple Watch. Unlike the smartwatches, though, the tablet was not given a specific date when it will be available for pre-order. Apple has only promised it would be released in October.
After the iPhone 12 event last Tuesday, leaker Jon Prosser reported that the iPad Air 4 pre-order will open this Friday, Oct. 16. Apple has yet to confirm this information and the official page for the tablet, as of this writing, still states it will be "available in October" while both store pick-up and delivery options are tagged as "currently unavailable."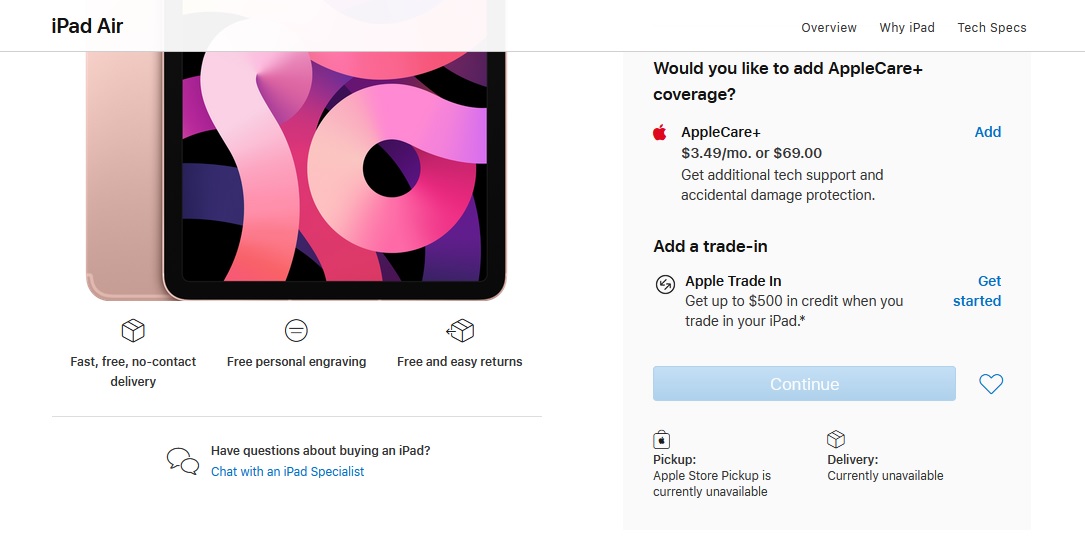 Screenshot from Apple.com
However, that could change in a matter of hours. Retailers like Walmart and Best Buy Canada have reportedly listed iPad Air 4 as available for delivery on Friday, Oct. 23. If Apple's product launch practices in the past are any indication, this very likely means the pre-order will open at least a week before the retail launch, which falls on Oct. 16. On the same day, the 6.1" iPhone 12 and iPhone 12 Pro will be available for pre-orders as well.
Why iPad Air 4 has been a mystery
Apple, unsurprisingly, did not explain why the iPad Air 4 release date was left under wraps after its "Time Flies" event last month. However, the likely reason is the tablet's processor. iPad Air 4 will be powered by the A14 Bionic chip, Apple's next-generation mobile processor that is also used in the iPhone 12 series. Traditionally, a new Bionic chip debuts with the new lineup of iPhones.
Since Apple's launch timelines have been drastically changed this year, the iPad Air 4 was announced before the iPhone 12. It is understandable for Apple to still want the A14 to debut with the iPhone 12, which could explain the tablet's release date coinciding with the new smartphones.