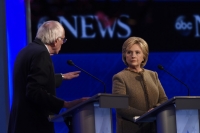 A decisive New York primary for the Clintons – again
Apr 18, 2016 03:01 am UTC| Insights & Views Politics
The April 19 primary in New York looks like it will play a familiar role in this latest Clinton presidential campaign. Bernie Sanders is hoping his Brooklyn roots and left-wing stands will propel him to victory there,...
The last time an outsider like Trump crashed the GOP? 1940
Mar 15, 2016 12:02 pm UTC| Politics Law
Donald Trumps challenge to the GOP establishment now seems on course to succeed. As Republicans (and many others) consider what turning the partys presidential nomination over to a real outsider will likely mean, its...