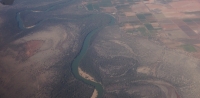 Are toxic algal blooms the new normal for Australia's major rivers?
May 18, 2016 08:43 am UTC| Insights & Views Nature
For much of this year, up to 1,700 kilometres of the Murray River has been hit by a serious outbreak of potentially toxic blue-green algae, which has flourished in the hotter-than-average conditions. After three months,...