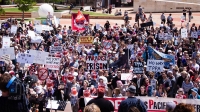 Does TPP's slow death mean the world is now unsafe for trade deals?
Sep 02, 2016 06:46 am UTC| Insights & Views Law
It seems that the world has become unsafe for trade agreements. In particular, the Trans-Pacific Partnership (TPP), a major new trade deal among the United States and 11 other Pacific Rim nations, has become a political...