Trump nods to Cuban exiles, rolls back ties: Experts react
Jun 21, 2017 15:56 pm UTC| Insights & Views
Editors note: President Donald Trump announced on Friday a partial reversal of former President Barack Obamas policy of engagement with Cuba. Trump restored travel restrictions and prohibited financial transactions with...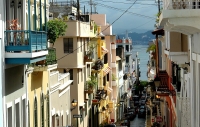 Can Puerto Rico escape its $72 billion debt trap and avoid Greece's fate?
May 12, 2016 02:34 am UTC| Insights & Views Economy
To almost no ones surprise, Puerto Rico missed a US$422 million debt payment earlier this month, triggering fears among investors that additional defaults are on the way and increasing pressure on Congress to act. The...