Is local news on the cusp of a renaissance?
Oct 23, 2017 01:35 am UTC| Insights & Views Technology
Its not an easy time to be a journalist in the United States. Since 2000, nearly half of newsroom jobs more than 20,000 of them have disappeared. Rubbing salt into the wounds, CareerCast named newspaper reporter the...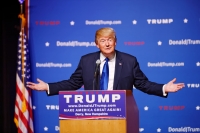 10 ways the tech industry and the media helped create President Trump
Dec 02, 2016 05:12 am UTC| Insights & Views Politics
Three weeks after Donald Trump won a historic victory to become the 45th president of the United States, the media postmortems continue. In particular, the role played by the media and technology industries is coming...