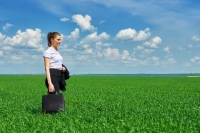 New home, new clothes: the old ones no longer fit once you move to the country
Mar 09, 2019 05:42 am UTC| Insights & Views Life
What happens if you decide to jump in, Escape to the Country-style, and flee the city rat race? Well, for a start, your identity begins to change in response to the new place around you. This change happens inside you,...
Imagining your own SeaChange – how media inspire our great escapes
Oct 28, 2018 12:25 pm UTC| Insights & Views Nature
Many Australians dream about moving to the country, escaping the city for good. We might have grown up watching television shows such as All Creatures Great and Small. More recently, we might have tuned in to McLeods...