Alleged assassination plot against Sikh separatist could hamper India-U.S. relations
Nov 25, 2023 07:34 am UTC| Insights & Views
The United States government recently stated it had thwarted a plot to assassinate a Sikh separatist leader in the U.S. and issued a warning to the Indian government. According to media reports, U.S. authorities say they...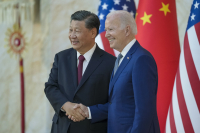 What Joe Biden's meeting with Xi Jinping means for geopolitical tensions
Nov 19, 2023 06:03 am UTC| Politics
U.S. President Joe Biden has engaged in a crucial face-to-face meeting with Chinese President Xi Jinping at the Asia-Pacific Economic Cooperation (APEC) summit in San Francisco. This high-stakes diplomatic encounter was...