Satellites reveal ocean currents are getting stronger, with potentially significant implications for climate change
Apr 23, 2021 11:29 am UTC| Nature
Scientists already know the oceans are rapidly warming and sea levels are rising. But thats not all. Now, thanks to satellite observations, we have three decades worth of data on how the speeds of ocean surface currents...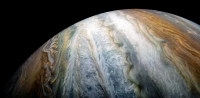 Jupiter's magnetic fields may stop its wind bands from going deep into the gas giant
Aug 13, 2018 14:00 pm UTC| Insights & Views Science
One of the most striking features of Jupiter a gaseous giant with no solid surface is the coloured bands that encircle the planet. These bands are so large and distinct that they can be seen from here on Earth using a...