Satellites reveal ocean currents are getting stronger, with potentially significant implications for climate change
Apr 23, 2021 11:29 am UTC| Nature
Scientists already know the oceans are rapidly warming and sea levels are rising. But thats not all. Now, thanks to satellite observations, we have three decades worth of data on how the speeds of ocean surface currents...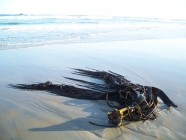 How an alien seaweed invasion spawned an Antarctic mystery
Jul 17, 2018 14:31 pm UTC| Insights & Views Nature
Two small pieces of seaweed found by a Chilean scientist on an Antarctic beach set in train research that may transform our understanding of ocean drift and reveal what the future holds for Antarctic ecosystems affected by...