Coronavirus cases are growing exponentially – here's what that means
Apr 04, 2020 06:42 am UTC| Health
In the U.S., scientists stress that the number of coronavirus cases has been growing exponentially. In ordinary speech, the term exponential usually means really fast. To mathematicians like myself, and to scientists...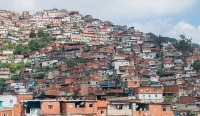 7.5 billion and counting: How many humans can the Earth support?
Jul 09, 2018 14:09 pm UTC| Insights & Views Nature
Humans are the most populous large mammal on Earth today, and probably in all of geological history. This World Population Day, humans number in the vicinity of 7.5 to 7.6 billion individuals. Can the Earth support this...