Prisoners need drug and alcohol treatments but AA programs aren't the answer
Sep 09, 2018 20:44 pm UTC| Insights & Views Health
Prisons and drug use are closely linked. Two-thirds of Australian prisoners report using illicit drugs in the 12 months before they entered prison, compared with 12% of the general population in the previous 12 months....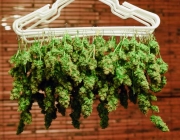 How Australian attitudes to cannabis compare to state laws
Jul 05, 2018 13:35 pm UTC| Insights & Views Law
Australians have a more progressive stance to cannabis reform than current laws reflect. A poll conducted by the Greens this week found that the majority of Tasmanians support the decriminalisation of recreational use...