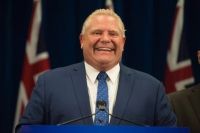 Doug Ford's attack on the 'Court Party'
Sep 13, 2018 13:17 pm UTC| Insights & Views Politics
Ontario Premier Doug Ford has announced he intends to use the notwithstanding clause of Canadas Constitution in his battle to shrink Toronto city council and reintroduce his controversial Better Local Government...
Ford Nation rises again: What Doug Ford means for Ontario
Jun 08, 2018 05:31 am UTC| Insights & Views Politics
Up until a few months ago, discussions of Doug Ford becoming premier of Ontario were relegated to amusing hypothetical conversations. However, the hypothetical what if has become reality. The man many view as a Canadian...