Paul Romer and William Nordhaus – why they won the 2018 'economics Nobel'
Oct 09, 2018 13:01 pm UTC| Insights & Views Economy
William Nordhaus and Paul Romer have been awarded the 2018 Sveriges Riksbank Prize in Economic Sciences (colloquially known as the economics Nobel). Both are macroeconomists dealing with long-run dynamics big questions of...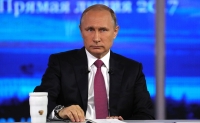 Some easy fixes for Russia's flagging economy – if only politics didn't get in the way
Mar 18, 2018 05:26 am UTC| Insights & Views Economy
With the outcome of the Russian election almost certainly a return to power for Vladimir Putin, its perhaps more interesting to consider how he could improve the countrys flagging economy. This is more of a...