2018 Winter Olympics set to begin against the backdrop of warm words and cold politics
Feb 08, 2018 13:30 pm UTC| Insights & Views Sports
Mega sporting events are always heavily infused with politics, but the impending Winter Olympics in Pyeongchang, South Korea, have almost been buried in a geopolitical avalanche. Global tensions over North Koreas...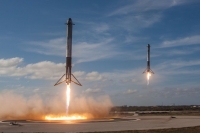 Sense, think, act: the principle that governs everything from rocket landings to interest rates
Feb 08, 2018 13:28 pm UTC| Insights & Views Science
The successful first test flight of the SpaceX Falcon Heavy launch vehicle Wednesday morning was an amazing technological feat and fantastic theatre. The Falcon Heavy is the second most powerful rocket ever launched,...