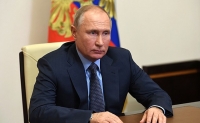 How long can Vladimir Putin hold on to power?
Apr 23, 2022 08:13 am UTC| Insights & Views Politics
As the war in Ukraine drags on and sanctions start to bite, key questions are being asked. How long can President Vladimir Putin remain in power? Will he be overthrown in a palace coup, as recent rumours have suggested?...