Homeless: more than a third of people leaving prison say they have nowhere to go
Nov 05, 2019 02:34 am UTC| Insights & Views Life
Imagine for a moment youre being released from prison after a 12-month sentence for theft. Youre clean, off drugs, its been tough, but youre looking forward to starting a new life. You leave prison and head to the nearest...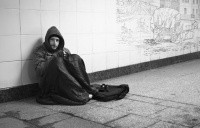 Half a century of homelessness in the UK – here's what has changed
Dec 29, 2016 13:12 pm UTC| Law
Injury, unemployment, eviction, squats, shelters, social services homelessness. This is the desperate spiral depicted in Ken Loachs influential film, Cathy Come Home. First aired 50 years ago, the drama offers a graphic...