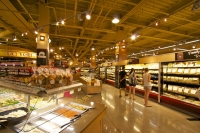 What is hazard pay, and why are Amazon and other companies ending it for essential workers?
May 29, 2020 14:15 pm UTC| Business
As the shutdown orders went into effect two months ago, several American companies began offering hazard pay to essential employees, such as retail, grocery and health care workers. Now, some of those companies, such as...
Raising the minimum wage in restaurants could be a win for everyone
Oct 29, 2019 19:36 pm UTC| Insights & Views
Critics would have you believe that upping the minimum wage in restaurants will lead to massive layoffs and closures. But since raising the minimum wage to US$15 per hour nearly a year ago, the restaurant industry in New...