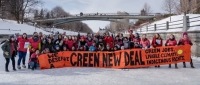 The Green New Deal is going global
May 07, 2019 03:06 am UTC| Insights & Views Politics
Its the third period of Game 7 of the Stanley Cup playoffs and were trailing, badly. Its time to pull the goalie and send out the top forward line. We dont know if we can actually win, but were going to give it everything...
The fossil fuel era is coming to an end, but the lawsuits are just beginning
Dec 19, 2018 15:03 pm UTC| Insights & Views
Coal is dead. These are not the words of a Greenpeace activist or left-wing politician, but of Jim Barry, the global head of the infrastructure investment group at Blackrock the worlds largest asset manager. Barry made...